Whether the economy is in a downturn or upswing, parts and subassembly manufacturers are constantly under pressure from automakers to improve product quality and performance. In addition, shortened lead times and cost reductions are required. For this reason, profits will be greatly reduced.
Only parts manufacturers that implement just-in-time and automated manufacturing workflows are fully aware of the need for efficiency and streamlined operations. However, many Tier 1 and Tier 2 component makers, as well as Tier 3 component manufacturers, are turning to other solutions to meet OEM quality and price requirements, as well as to address their own labor and productivity issues.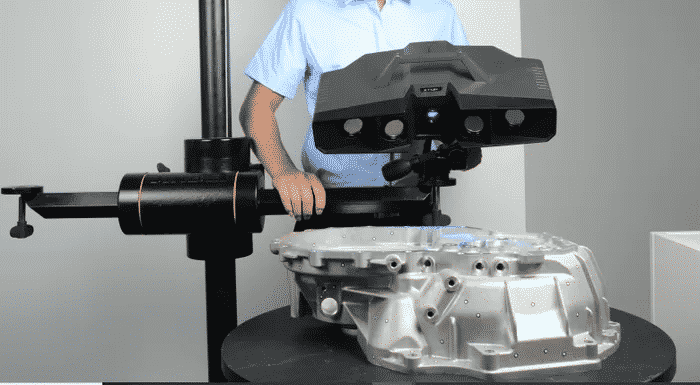 Reduce Inspection Bottlenecks and Inefficiencies
No automotive parts manufacturer is unaware that it is crucial to build a robust quality management system that incorporates both upstream and downstream quality control in the production process. Quality issues with any component or subassembly can lead to performance problems, costly recalls, and potentially jeopardizing or suing drivers.
Automotive component manufacturers have traditionally relied on traditional CMMs installed in laboratories to inspect components. In the case of a CMM, although the accuracy and reliability of the data is high, dimensional inspection experts must perform the operation and inspection of the CMM.
The problem with CMMs is that only experts can complete inspection work, which inevitably creates a production bottleneck. First of all, no matter how suitable you are or how efficient your workers are, there is a limit to the quality control checks that can be performed in a day. Given today's tight labor market and the approaching retirement generation, it's hard for auto parts manufacturers to hire and retain experienced dimensional inspection experts.
In addition, CMMs are vulnerable to vibration, humidity, and dust, so they must be operated in the lab rather than on the production floor. Also, from a cost standpoint, any production plant has a limited number of CMMs. At the end of the day, it has a huge impact on production throughput and quality.
Difficulty Dealing With Increasingly Complex Parts and Subassemblies
Automakers are all striving for car functionality to gain a competitive advantage. Automakers are pushing the boundaries of design, from organic foam elements to the electrification of cars. This requires more complex parts and subassemblies than ever before, which require a complete reinvention of traditional manufacturing.
Increasing complexity will force quality assurance and quality control teams to solve more challenging challenges. Traditional tools have not been able to adequately measure critical surfaces of parts with curved surfaces, parts with a variety of surfaces, such as gloss and reflection, black or transparent. If you need to perform an entire system of complex parts or subassemblies, the problem is even more difficult. In addition, due to the ongoing business integration in the automotive industry, parts manufacturers must also develop the skills to design and manufacture many types of parts with different specifications for each automaker. When it comes to designing and manufacturing a wide variety of products, quality assurance and quality control methods become even more complex.
For automotive parts manufacturers who do not have the right 3D measurement technology and workflows in place, quality monitoring and traceability to ensure defects are not overlooked can be a headache.
Pressure from Automakers To Cut Costs
For parts manufacturers, this means they have to make a profit while meeting the demands of automakers. Automakers, on the other hand, are looking to innovate from their partners to ensure product differentiation, while also looking to component manufacturers to reduce annual costs, often by 3 to 5 percent. This creates a risk for component manufacturers to suffer from poor performance.
To remain competitive while easing pressure to shrink profit margins and improve performance, component manufacturers must take the next step by motivating employees and increasing productivity through "easy" pay-for-performance incentives and performance-sharing schemes. In addition, technology requires reliance on innovative solutions to improve efficiency, and production line workflows must be reviewed to improve business performance.
3D Technology Helps Automakers Survive and Maintain Market Dynamics
Metrology grade 3D scanners and optical CMMs, play a decisive role for automotive suppliers, both in terms of quality and operation, as an integral part of a comprehensive quality management system.
Whether in Tier 1, Tier 2 or 3, many automotive parts manufacturers are choosing portable 3D scanning solutions as a complement to traditional CMMs and other testing equipment.
This is because these technologies provide optimum levels of accuracy, reliability and repeatability suitable for automotive industry applications. In addition, not only can 3D measurement results be generated in a short time, but it is also characterized by amazing operability that is not affected by the proficiency level of the operator. Some automotive suppliers have deployed automated quality control solutions to deliver incredible productivity gains. The R-Series is a complete industrial 3D measuring cell that can also be integrated into factories for at-line inspection.
Let's take a closer look at the benefits of 3D scanning technology for automotive manufacturers.