Brass Investment Casting or "lost wax casting" is one of the most popular investment casting methods that has been used worldwide for over four thousand years without significant changes. We find the first approaches to this process in ancient India and Egypt, in China of the Han dynasty, in ancient Greece, with the Etruscans, in the gold castings of South America or the bronze factories in Benin, Africa.
Due to the series production and the advanced technologies that can be used in all work processes today, this method, which has been handed down from the earliest times, has become the most sophisticated casting method today.
What Is Brass Investment casting?
Brass Investment casting is the manufacturing process in which most cast parts, both quantitatively and qualitatively, made of titanium as well as stainless steel and aluminum, are marketed in our company. Brass Investment Casting is a method of using fusible models and high-performance shells (molds) to cast non-cutting or less-cutting copper castings with higher dimensional accuracy and lower surface roughness values. Brass investment castings are yellow brass investment castings, red brass investment castings, and silicon brass investment castings.
Brass castings are used in a wide variety of industries such as valves, pumps/fluid technology, boiler fittings, general engineering, power plants, air conditioning and refrigeration, railway parts, petrochemical, dental and medical tools, plumbing, aerospace, automotive, electrical. , Construction, Mining and many other industries.
Investment Casting Features
Investment casting method, also called "lost wax method", is a precision casting method for metal material such as brass. The method is to use beeswax to make a model of the casting, and then use other refractory materials to fill the mud core and apply it to the outside. After heating and baking, the wax mold is all melted and lost, making the entire casting model into an empty shell. Then pour the molten liquid inside, and then cast into a utensil. The utensils cast by the lost wax method can be exquisitely cut through and have the effect of hollowing out.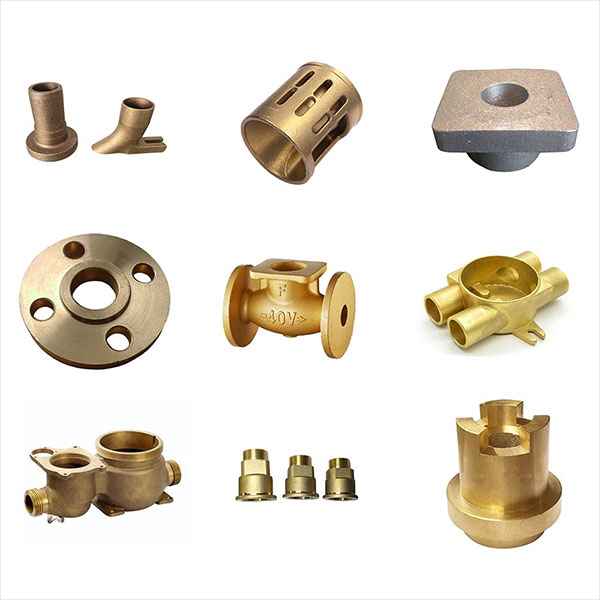 Brass Features
Brass (consisting of copper and zinc) can be individually adapted to the wide range of applications. By adding the alloying elements Al, Mn, Si, Fe or Pb, important properties for use can be highlighted. Good casting properties of the material combined with our many years of experience in the design of mould/core application combinations enable thin-walled and complex geometries. Strengths at the level of conventional steels, corrosion resistance, especially against weather influences, seawater resistance, high wear resistance and good machinability give the designer a cost-effective alternative for a wide range of possible applications. Copper-zinc alloy – brass is not harmful to health, their surfaces have an antimicrobial effect.
Features of Brass Investing Casting
Excellent surface and luminosity
Suitable for parts with complex shapes
Exact dimension, saving machining cost
Available for cast iron mass production
Suitable for all kinds of metal alloys and metal materials
Application of Brass Investing Casting
Brass precision castings are used in a wide variety of industries such as:
In mechanical and plant engineering, for example in conveyor technology, ventilation technology, for tool, power and printing machines, in drive technology as well as in robotics and automation, and much more.m.
In special machine and plant engineering as bevel gear segment, gear and bevel gear, or worm ring.
In pump construction as pump, suction and pressure housing, for paddle wheels, segment socket and step housing, and much more.m.
In medical technology for milling arms, pipe bends or medical devices.