Investment Casting for Titanium and Titanium Alloys
Combined induction centrifugal casting systems make it possible to process almost all metals in the investment casting process economically and also under vacuum. In particular for the processing of metals with high demands such as titanium, the investment castings guarantee cost-effective and process-stable casting with applications in medical technology, but also in various other areas of application of complex titanium parts.
What is Titanium Investment Casting?
Fine casting is the casting of near-mold components with the highest dimensional accuracy and very good surface quality. It is thus possible to produce components with complicated shapes, undercuts and filigree and very thin-walled structures, which are very close to the final shape and require little or no post-processing. Investment casting made of titanium in various grades and alloys is one of the focal points of our product range. In the titanium investment casting production, the vacuum centrifugal casting process is mainly used, which is currently the technological optimum in most applications.
Cast Alloys Titanium Investment Casting:
Material G-TiAl6V4
Material G-Ti3Al
Material G-Ti
Features of Titanium Castings:
High strength
Weight reduction
Complex geometry
Good surface quality finished casting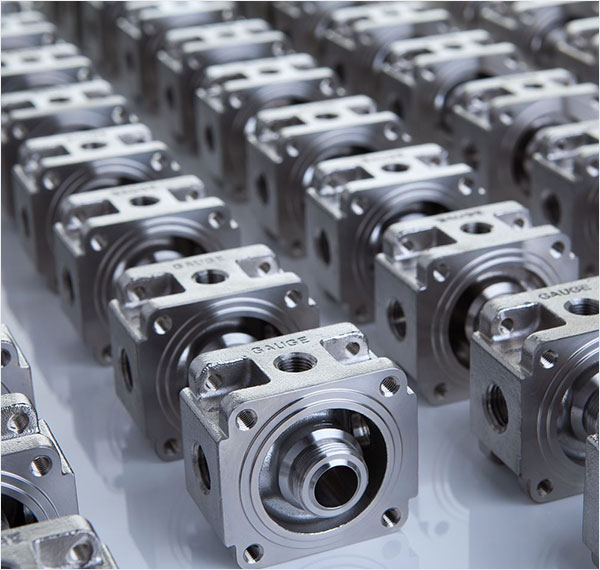 Titanium & Titanium Alloy Features
Titanium is classified among non-ferrous metals as light metals. This material has a low density with at the same time very high strength and heat resistance. Many processing methods quickly reach their limits with this material – but our investment casting processes do not. As an alloying component, it gives higher toughness, grain refinement, ductility, weight reduction and strength, and corrosion resistance. Therefore, it offers a wide range of applications from aerospace and turbocharger technology to medical technology and the chemical industry. In addition, titanium is a strong deoxidizing agent, carbide-forming agent and sulfur binder. The density of titanium is approx. 4.5 g/cm³. The melting point is 1600 °C.
Titanium grade 2 – Chemical process, ocean, etc.
Titanium grade 5 – Aerospace, medical, marine and chemical processing industries and oilfield services.
The main features of titanium and titanium alloys are:
Low density (low component weight)
High strength, high stiffness
High thermal load capacity
Very good corrosion resistance
Good body compatibility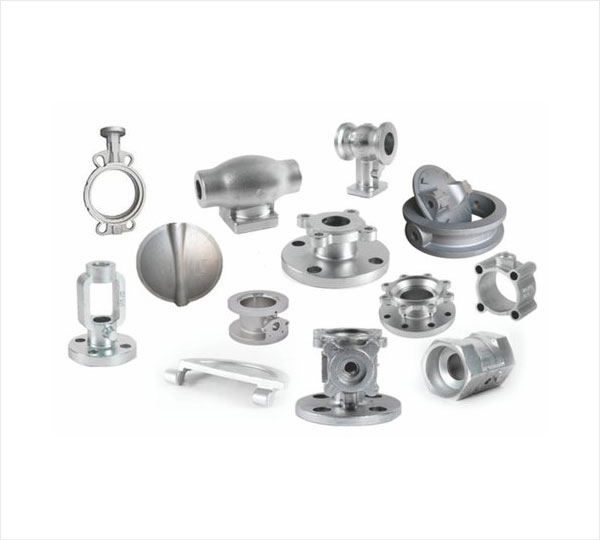 Titanium Investment Casting for Demanding Applications
This results in the following possible main categories for the application of titanium alloy casting:
Applications where the good structural or temperature properties of titanium alloys are advantageous – These include pipeline construction in the chemical industry or container construction for aggressive media. Due to its long service life, titanium is also widely used in architecture. Due to the combination of long service life and the extraordinary matt-silvery appearance, titanium has also taken its place in watch and jewelry production.
Applications where the ratio of high strength to low density is paramount – The ratio between strength and density is the highest for metallic components. Titanium is therefore of great importance for mechanical and plant engineering as well as for the automotive, aerospace and aerospace industries. Especially due to its high strength, titanium has firmly established itself here.
Applications in which the very high corrosion resistance to aggressive media is useful – Chemical industry or medical technology are the examples here. Titanium is non-toxic and has excellent biological compatibility. Titanium is often found in the medical field as the main input material, for example for the production of bone substitutes or bone supports, for pacemakers or for dental implants. Due to the excellent corrosion resistance of titanium, it is mainly used in areas of pipelines of chemical, gas and oil processing, or in container construction for the transport of highly aggressive substances.